We are all responsible for our planet's future.
Shaeco was created by the hands of a group of people who believe that all of us, individually and collectively, are responsible for the well-being of our planet.

More than just developing innovative cosmetics and accessories, we want to produce them through a culture of sustainability. This is why our products are developed and produced in Portugal, using sustainable raw materials and ecological packaging.
WATER SAVING

Our products consume less water during the production process.
VEGETABLE-BASED INK

The ink we use on our packaging has a more sustainable and environmentally friendly plant base.
PLASTIC-FREE PACKAGING

Our packaging is plastic-free and we use as little paper as possible.
100% RECYCLED AND RECYCLABLE PAPER

We use 100% recycled and recyclable paper and vegetable-based inks in our packaging.
We have known for a long time that our planet is suffering from our decisions. As team-mates - yes, we had already been working together on other projects - we often shared our desire for a more sustainable lifestyle.
If one of us found a product that could improve our ecological footprint, we would share it with others, so that more people would be part of the solution.


On the other hand, we knew about the problems that arose with the frequent use of disposable plastic. The pollution of the oceans with tonnes of superfluous plastic, resulting from the waste we produce and which cannot be recycled, has become a concern for us as a team and as part of society.
NEW IDEAS KEEP COMING UP AND VERY SOON WE WILL HAVE NEW PRODUCTS, ALWAYS KEEPING SUSTAINABILITY AS OUR MISSION.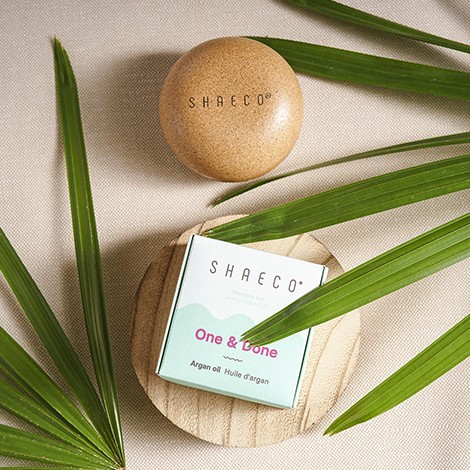 Why a shampoo bar?
We learned about shampoo bars in 2018. They were an innovative way of producing and using shampoo, which allowed us to drastically cut the use of plastic at home and when travelling.

However, several points did not convince us: the fact that shampoo bars don't make much foam, the difficulty of transportation and the shape of some shampoos.

We talked to several people who were already using similar products and they all agreed: they wanted more foam and packaging that was sustainable and would let them travel with the product.
One & Done and Pebble
After extensive research, "One & Done" was created, a 115 g shampoo bar enriched with argan oil, with a shape that fits our hand and makes more foam after contact with water and hair. Another unique feature is its perfume - one of the most talked-about points by those who have received Shaeco boxes.

To solve the carrying problem, we developed Pebble, a cork carrying box, inspired by the pebbles we can find on the Portuguese coast.

Pebble means you can carry your shampoo to the gym, on plane trips and pack it at home if you wish (however, we recommend that you leave the shampoo on a dry base, to dry between washes and increase the duration of the shampoo bar).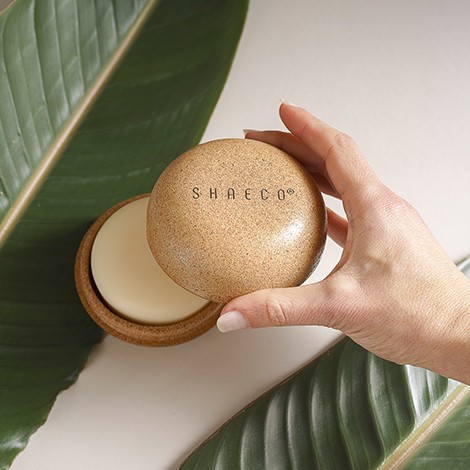 Love your hair. Love the planet.